A local music archeology of 1978 - 1984

Formed in 1978 by John & Helena Rogers, the band went through 4 major personnel changes before giving up in 1984. There was a pop side, and an improvisational side, but it was always fiercely original. There were big shows, and shows where nobody came, and shows where they asked us to stop playing so they could play some records and dance. And there were studio recordings, and the beginning of home recording.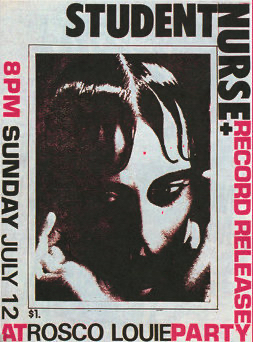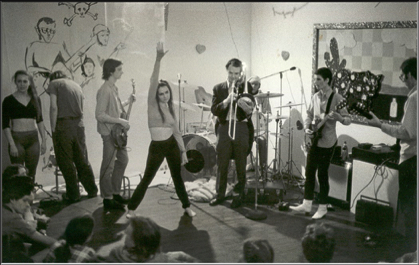 "...and we survive somehow..."
BIG NEWS for SUMMER 2023!
NEW RECORDINGS + OLD VINYL REDISCOVERED
We discovered a cache of our 45's from 1980-2 and they'll be available in local music stores... Here's more info...
"Seattle, June 2023. Red Shift/Student Nurse/AAIIEE at Slim's. Deep in the theremin zone with Eric Muhs and Student Nurse. Outer space bleeps, bloops, wooshes, zippydos, and random sploinks, accompanied by grinding guitar and pounding drums, all under an almost full strawberry moon on a warm(ish) summer night. Hell yeah, I'm in! "- Mike Mitchell
"Student Nurse are the sh*t. I'd be 100% in if they just revisited their old material but that they're creating new work and constantly pushing the envelope is a minor miracle. Big fan here".- Kent Caldwell
"I went to see Sinbound, Student Nurse, and Earthlings at Lucky Liquor on Friday night - all three bands were excellent. Sinbound is a vocal/guitar + bass drum duo with some really good swamp-stomp tunes, and the Earthlings feature Chip Doring, King of the Spaced-out Surf guitar, so you KNOW they're gonna be good, but I gotta say, Student Nurse totally threw me for a loop.
They were fairly popular in Seattle in the late 70s/80s. The U-Men played with them a few times. I always liked them, though some people thought they were kind of twinky/art/noise, a little "nu wave". They broke up for a long time, then got back together a couple years ago. This was my first time seeing the new, re-united Student Nurse, and..... Holy Cr*p, they were AMAZING!! Still weird and highly original, but a lot heavier and more upbeat than they used to be. Helena Rogers, singer/guitarist, was tearing off brilliant solos. I can't recommend them enough - go see 'em if you get the chance!" - Tom Price