4 song EP : As Seen on TV released in June 1981
Helena designed & hand silkscreened each sleeve, one at a time, under her moniker Plastic Horse Graphics. Front cover photo by Sue Ann Harkey, liner photos by Randy Hall, and layout by Dennis White.All 4 songs on one side of a 12 inch pressing, blank vinyl on the other: most unusual.
Recorded at Triangle Recording Studios, produced by Student Nurse for Rug Records, engineered by Jack Weaver and Bill Stuber, mixed by Bill Stuber.
Another track, Discover Your Feet, was recorded at the same time for release on The Seattle Syndrome. The band now is Helena and John, with Joe Harris, bass, Al Evans, guitar.
Encounter: lead vocal Joe Harris, has writing credits with Helena, who adds some backing vocals.
Garbage and Big Cheese: Helena lead vocal, but John wrote the words. John & Joe on backing vocals.
Lonely Too Long is an old Rascals cover written Felix Cavaliere and Eddie Brigati. Not sure how this came to be. Sounds like all 3 guys supply backing vocals. Dan Bonow, a friend of John's he'd played with a lot previously, came in and played organ. John had a hilarious story of opening for Blondie at the Paramount Theater in a Dan Bonow band. The Paramount is huge, but back then, they often had trouble filling it, and would do these very inexpensive concerts (sometimes just a buck, to see a "Rising Star"). Anyway, the place wasn't very full, but the folks that were there were absolutely there to see this cool Blondie band from New York. And they were absolutely not there to see the Dan Bonow band. Dan played keys, and that's not the easiest place to front a band from anyway, and he was trying his best, waving his hands and crashing down on the keyboard. And the harder he tried up there on that huge stage, they more they hated the band and wanted them to get out of the way and let Blondie on.
Eric: Tom and I joined the band after this had been recorded, but just before it was released. In fact, our first real gig with the band was the 'Record Release Party" for this, held at Roscoe Louie Gallery! We played Garbage pretty much throughout our time with the band, as we'd been able to inject some Garbage-like Ornette Coleman kind of energy into the breaks, and Tom came up with that great chink-a-chink guitar part at the end. It always had a lot of energy and was fun to play. We also did Big Cheese for a while early on, but eventually it got dropped for newer material.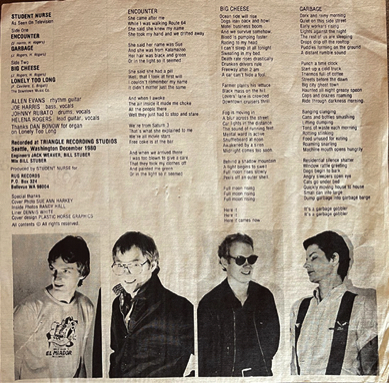 "Dogs begin to bark. Angry sleepers open eyes."
GARBAGE
Dark & rainy morn, quiet on the side streets.
Early workers rising, lights against the night.
The rest of us are sleeping.
? up on the roof top.
Puddles froming on the ground.
A distant rumble sounds.
Punch a time clock, start up a cold truck.
Thermos full of coffee. Streets before the dawn.
Big city ghost town. All right all night greasy spoon.
Cops and crazies roaming. Ride through darkness morning.
Banging clanging cans and bottles smashing
Lifting dumping tons of waste each morning
Rotting stinking food unused for eating
???? Machine mouth opens hungrily
Residential silence shattered. Window rattle, bleating
Dogs begin to bark. Angry sleepers open wide
Cats go under bed. Quickly move from house to house
Small can into large, dump large can into garbage barge.